Seeing that more than half of the time has passed since 2021, it is not easy to be busy this year. Are you ready to buy something to reward yourself? However, the price of big-name bags is a bit too high. It is more cost-effective to choose a relatively cheap light bag, and I want to say that at a fair price, there are still super nice and personalized styles! If you don't believe me, then you will take a good look at the cheap package I recommend today. They are all good things that make people want to stop!
Reminder: The products I selected and the purchase link are for your reference only. Although we try our best to ensure the timeliness of the information, it is unavoidable that sometimes the products will be out of stock or off the shelves. Please forgive me.
Under 100 Pounds|100-300 Pounds|300-500 Pounds
Under 100 Pounds
Charles & Keith Chain Handle Puffer Bag – Lilac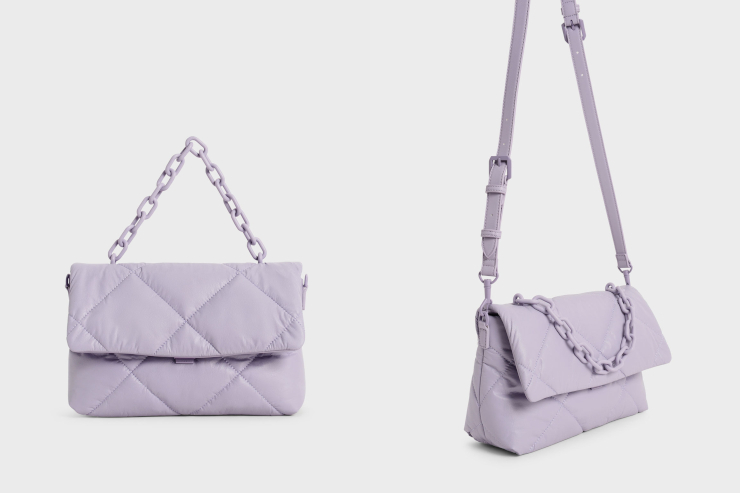 Let's take a look at this new product bag. It looks like a very popular pillow bag style this year. It has hot styles in luxury brands such as BV and Saint Laurent, so it will definitely be the representative of the 2021 light luxury bag. Its color also adopts the increasingly popular pastel colours pink candy color, it is full of youthful vitality on the back! This bag is also equipped with a short chain and a long shoulder strap, which can easily interpret different back styles, and the plain color is super eye-catching.
Free People Carrie Cord Sling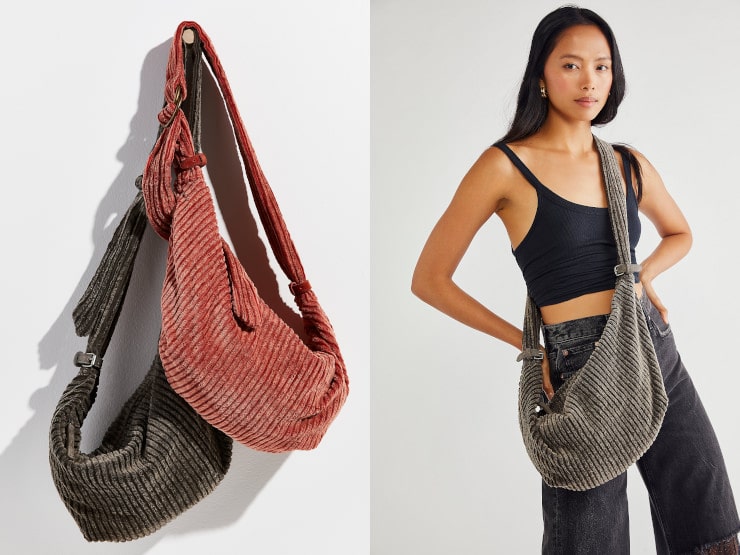 Want a different street fashion style in your outfit? This Free People bag will go very well. It uses the corduroy fabric that is not common in the bag, the softness is first-rate, and it also comes with a sense of unruly. The shoulder straps of the same material span the shoulders, light and casual, with black wide-leg pants and a small vest , Street cool girl feel came out immediately! Its capacity is still very large, and all the daily travel supplies can be installed. In addition to this gray-green, royal blue and dark orange are also high in value.
Lulu Guinness Black Leather Cleo Crossbody Bag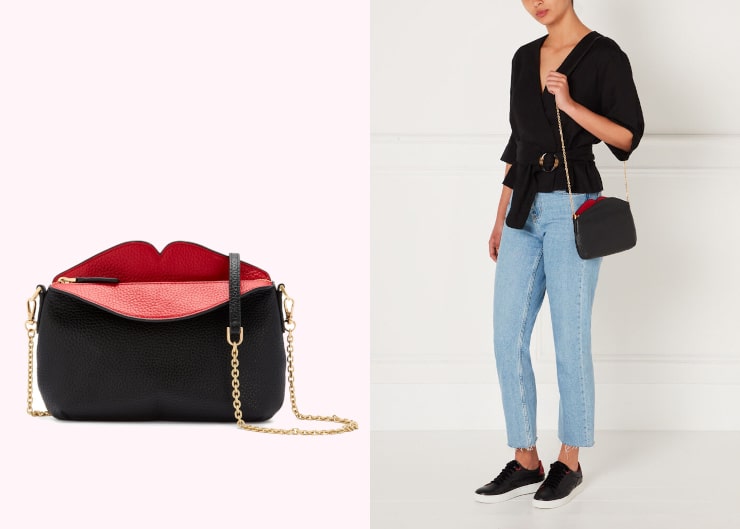 The most famous feature of British bag brand Lulu Guinness, who likes to play with the naughty girl style, is the delicate big red lips. The design of this small bag is very ingenious. The shape of this bag is a well-regarded chain bag style. The curved design at the opening and the bright red contrast color are very thoughtful. When opened, it is the big red lip of the logo. The classic red and black combination has a retro charm. A pair of pencil pants and a small black high-heel, plus a suit jacket, the feeling of a delicate little woman is really never to be bored!
Roop Upcycled Furoshiki Satin Bag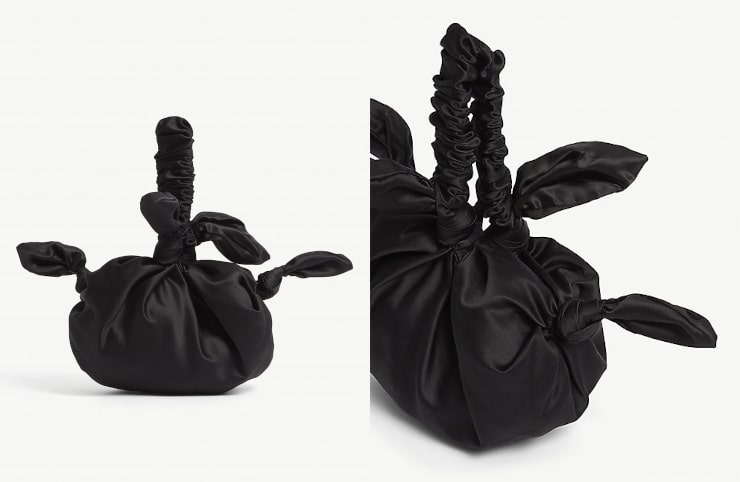 I fell in love with this bag from the niche brand Roop as soon as I saw it. It is a "ball bag" carried in my hand. I saw the same type before or at The Row, which is the main product of minimalism and super expensive. , But the price is really hard to love. This model has the potential to be a perfect replacement. The satin fabric wraps the round body at will, and the knotted design is a bit more interesting. It is light and comfortable to carry in the hand. It can be paired with a suit and trousers to create a casual style of daily life, and it can be paired with a dress as a qualified dinner bag. It is very practical to use a bag for multiple purposes.
100-300 Pounds
Beara Beara Alex Handbag – Caramel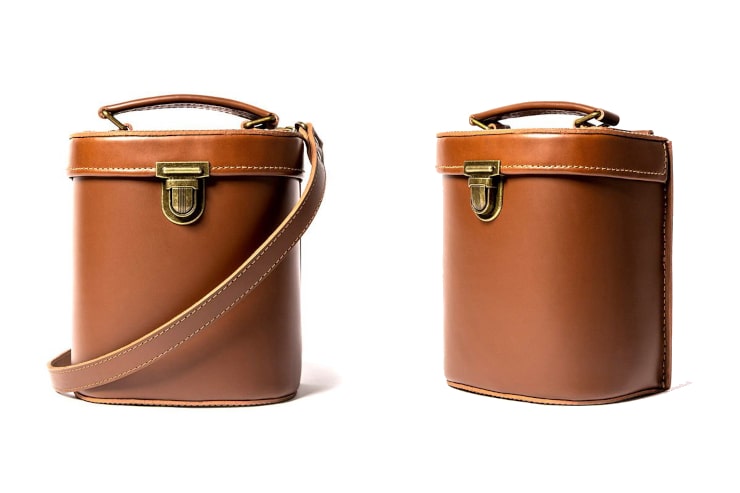 In retro bag styles, the iconic Beara Beara has many good choices. In the Caramel caramel color bag that its flagship recently launched, this hard shell bag has been a year-round hot-selling product since its launch in 2012. It is inspired by the old-fashioned telescope box, with a stiff shape, the flip cover is locked by a brass snap, and the shape is ultra-retro. Its back is a flat design, it will be very close and stable on the back, and will not run around. With a printed skirt and denim jacket, it is the sweet texture of a classic British girl, and it will be very photogenic when shooting a blockbuster!
Brandon Blackwood Kendrick Vegan Leather Box Bag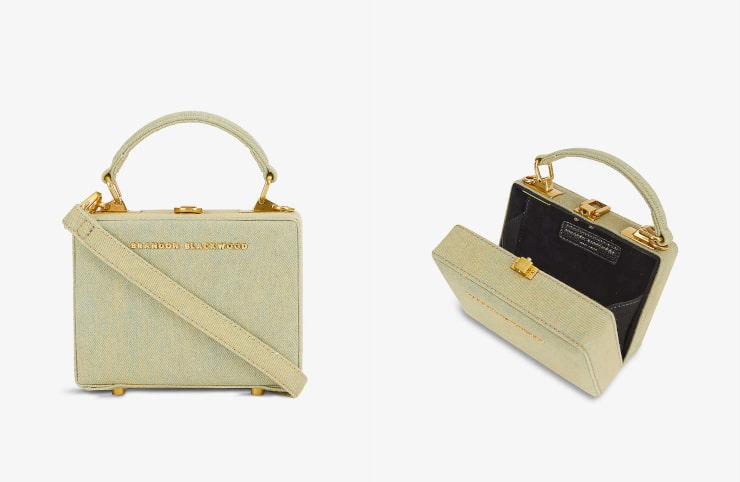 Speaking of stiff box bags, different brands have launched similar styles in the past two years, but the prices are generally high. If you want a more cost-effective small bag, you may wish to take a look at this brand called Brandon Blackwood. This small bag is a reduced version of the traditional suitcase. The square is very exquisite and the golden accessories are also very retro. . This bag is mainly made of environmentally friendly imitation leather, and the feel is still online, but the light green fabric style is more special. It is really clean and refreshing with white skirts and white shoes.
Coach Madison Convertible Backpack 18 – Signature Canvas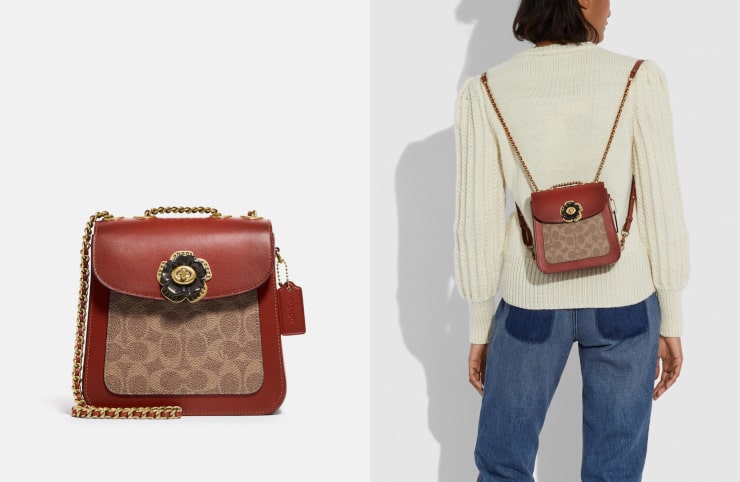 In the women's backpack, this small bag from Coach is a classic lady style. The red leather and C-shaped old-fashioned canvas fabric are once again perfectly combined, with the embellishment of brass accessories to create a very compact shape. Whether it is the arc-shaped flap, the elegant rose decoration on the turnbuckle, and the perfect combination of the chain and the leather shoulder strap, Coach's consistent control of details is reflected everywhere. It is worth mentioning that this bag can not only be carried on both shoulders, but the shoulder straps can also be recombined to become a shoulder bag. There are two ways to carry a bag, and it is really an expert!
Michael Michael Kors Mini Backpack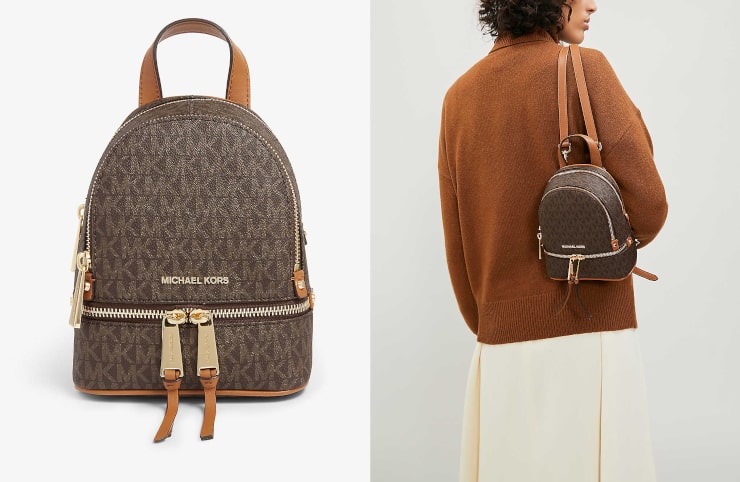 If there is a backpack at the same price that can match Coach, it must be Michael Kors' classic backpack. This backpack uses its own unique MK pattern coated canvas, which matches perfectly with the brown leather. The body is round and compact, and in fact, the internal space is still very large. The horizontal zipper decoration on the front of the bag is also a classic element of this bag. It is very recognizable when it is backed out. It can be said to be quite excellent in terms of cost performance and endurance!
The Cambridge Satchel Co. The 13 Inch Batchel – Fir & Campbell Dress Modern Tartan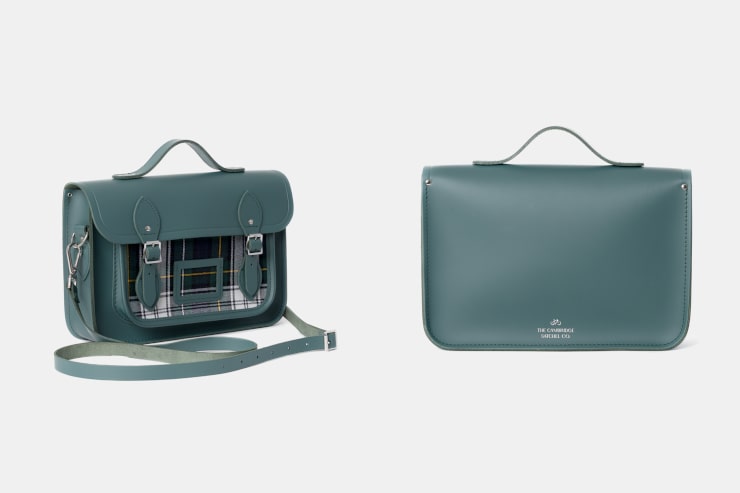 Among the light luxury bags, the Cambridge bag is definitely a stream of completely different styles. Its classic Satchel school bag is the favorite of many students and friends. The iconic rectangular body, double belt buckles, and the front name brand frame , How do you think it is a must-have item for orthodox college style. This time I recommend the new color of 13-inch Satchel. The combination of gray-green and traditional Scottish plaid is quite pleasing to the eye. Refreshing, low-key and versatile, both boys and girls can carry it, and friends who are considering starting a Cambridge bag suggest to take a look at this first.
Vivienne Westwood Recycled Polyester Sara Vivienne's Clutch – Brown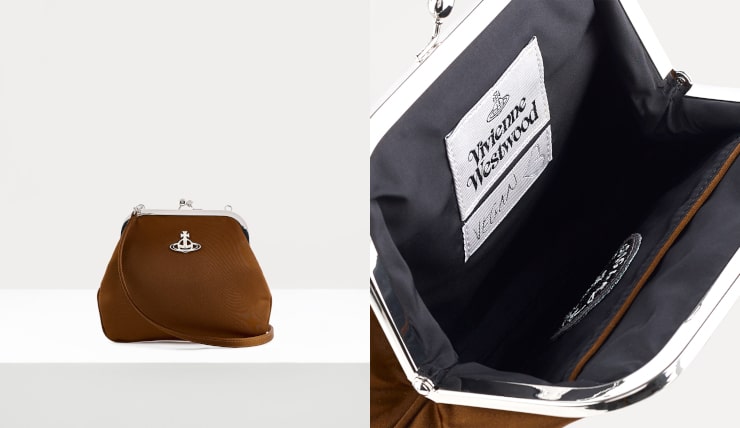 Next is a traditional British fashion brand—Vivienne Westwood, the Queen Mother of the West. Everyone must be familiar with its classic color plaid bags. This time, let's change to a different style. This dumpling bag is super hot this year, and many fashionable fairies have shown leather and wool versions on the Internet. It is said that it is the style that Queen Mother Vivienne loves most. This season, the dumpling bag also has a new color scheme. The dark brown is atmospheric and versatile. The little one is also charming in the hand. With a knit sweater, a tutu skirt and a kitten heel, it is simply a playful fairy.
300-500 Pounds
Dragon Diffusion Santa Croce Small Woven Leather Tote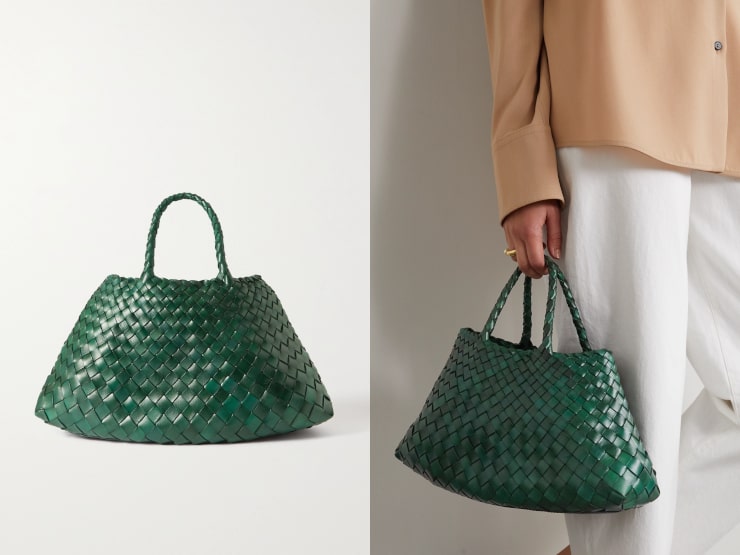 If your budget can be higher, the light luxury bag recommendation will have more big-name choices. First of all, this tote bag from the niche brand Dragon Diffusion is really loved! Its pure hand-woven leather feel and the style of BV's bag are one hanging, but it is made into this special trapezoidal shape, and the handle is still an integrated design. It feels that the craftsman's craftsmanship is really high enough. In addition, the black jade green is also very eye-catching, and the aura instantly rises to 2 meters 8 in the hand? Moreover, the price of such a high-level bag is really good compared to the big brands. Buy it, why not?
JW Anderson Lid Mini Bi-Colour Leather Pocket Bag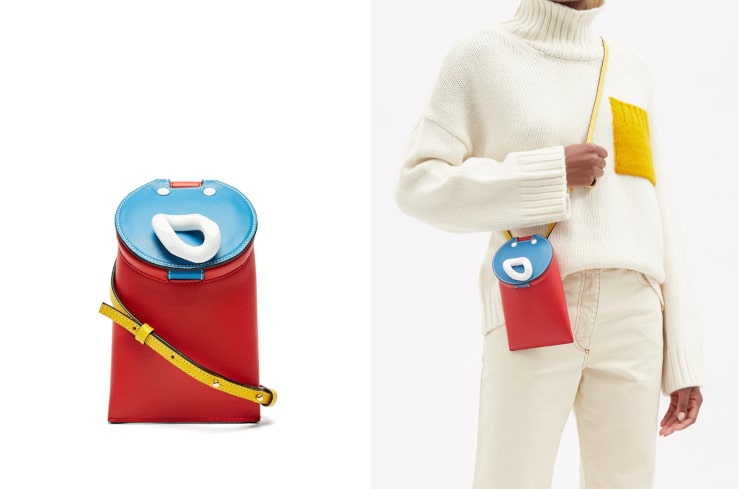 Designer big-name JW Anderson's bags have always had a distinctive personality. Its bags, accessories, and shoes often use large hinge elements, which are super individual. Among them, the Lid series of bags have long been unique. "Joyfulness" is well-known. On the round flip, two fixed rivets and single-grain hinge elements are perfectly combined to form a smiley face, which is so cute and impressive. If there is a bright contrast color, the cartoon feel will be even more obvious. Full of fun. This small bag is more like a mobile phone bag. It can hold mobile phones and bank cards when you go out everyday, and its practicality is also very good.
Little Liffner Vase Leather Clutch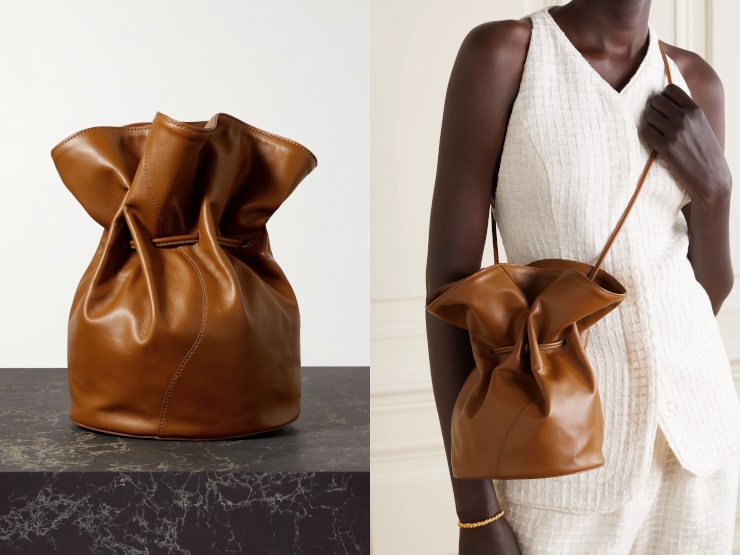 This bag from Little Liffner is called "Vase", its shape is really unique, the shoulder strap is also made of thin leather cord, the whole is simply a work of art. Like a model, using it with a pure white full body dress, a sense of high-level is really coming, and it is really a high-end version in a light luxury bag.
See By Chloé Alvy Suede and Leather Bucket Bag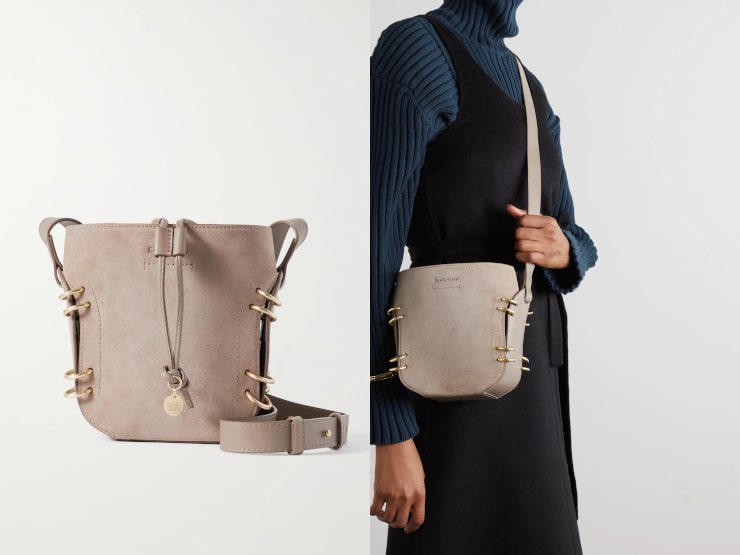 Its small bucket bag has a unique shape. The leather on the four sides is connected by several metal rings. The front is made of suede. The other three sides are flat leather. There is also a cotton bag with a drawstring inside. The sense of hierarchy is complete, and the practicability is also high. In terms of color matching, light gray brown feels more playful than black and brown. Whether it is a young girl or a mature lady, it can be used as a great new bag alternative.
Yuzefi Wonton Leather Tote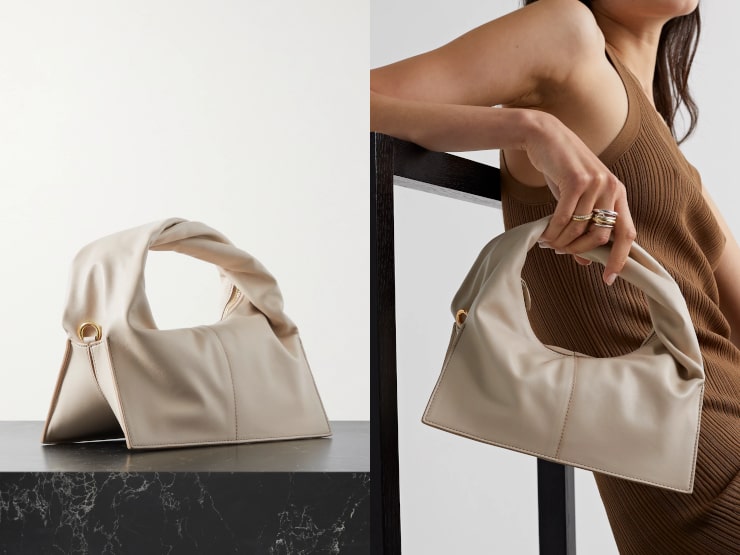 Independent designer niche brand Yuzefi directly named this bag "Wonton", I don't know if it is affected by the food anchor! Take a closer look, and the package is exactly as the name suggests. The slit-like bottom design, plus the handle that can be twisted up at will, is almost the same as the wonton waiting to be cooked. It is so special to hold it in your hand! The bag is also equipped with a string shoulder strap, and the shoulder-carry is outstanding. It makes people fall in love with it. Girls who seek to be different, this year's new bag will definitely not go wrong.
Well, in 2021, I will introduce you to the cheap bags that are worth buying in the UK market. Do girls already have a favorite one? Since it is not a luxury brand route, but a cheap and individual route, I strongly recommend starting from styling creativity and craftsmanship, looking for breakthrough styles, so that the decoration, practicality and cost-effectiveness will be the highest. If you like my sharing, come visit our website, more high-quality fashion recommendations are worth discovering.