Seeing the end of the year, the Party Season has finally arrived at everyone's expectations!
It's the holiday season, and friends and family get together naturally. A nice Christmas dress is indispensable.  There are so many choices of dresses. Especially at this time of the year, major fashion brands have independently opened up Partywear and Occasionwear areas for everyone to choose carefully.
So how do you dress up for this year's party to successfully become the focus of the audience? Which dress brands are worth choosing?
Today I will recommend some dresses, there is always one that suits you!
Reminder: The products I selected and the purchase link are for your reference only. Although we try our best to ensure the timeliness of the information, it is unavoidable that sometimes the products will be out of stock or off the shelves. Please forgive me.
& Other Stories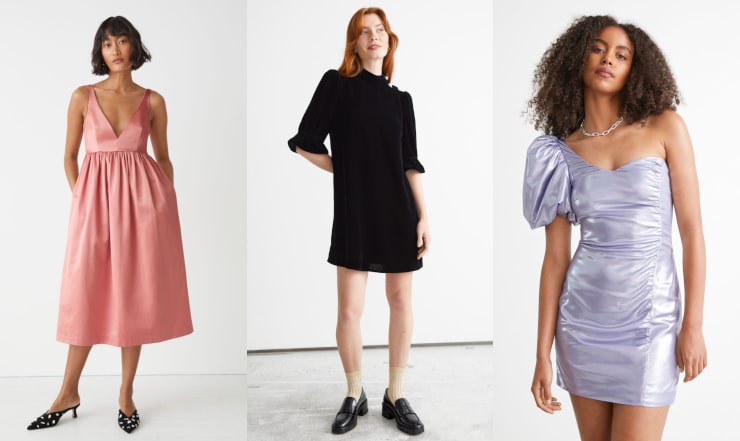 The first is & Other Stories, which is very familiar to all readers. New styles will appear every time. Not only that, a single brand combines the minimalism of Stockholm, the romantic temperament of Paris and the retro fashion of Los Angeles! During the Christmas period, & Other Stories naturally prepared a special Christmas dress area, retro style, Disco nostalgia and modern minimalist styles and other new styles! And not only clothes, bags, shoes, and jewelry can also be easily matched.
Favorite Product Recommendation
Metallic One-Shoulder Mini Dress
ASOS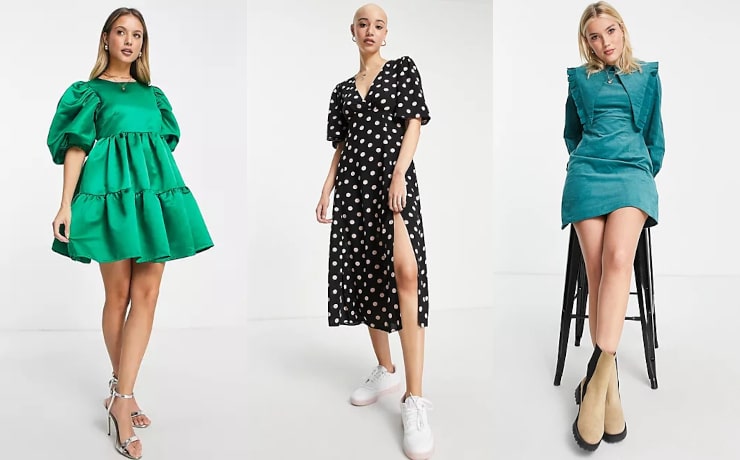 ASOS is a well-known large-scale fashion shopping platform in the UK, attracting hundreds of brands to settle in, all kinds of fashion clothing, shoes, bags, accessories, etc., as well as a variety of well-received beauty products.
Its clothing mainly focuses on young people's favorite trendy styles, and there are a lot of styles to choose from. Even Topshop, which everyone loves, has now joined the ASOS fashion camp. The ASOS official website not only has major clothing brands, but the ASOS DESIGN series is also very cost-effective.
ASOS also has its own Partywear party dress area, the price is very attractive, the style is not inferior to the big brands.
Favorite Product Recommendation
In The Style x Lorna Luxe satin puff sleeve trapeze mini dress in green
ASOS DESIGN angel sleeve midi dress in large nude spot
Urban Revivo ruffle front mini dress in green
Karen Millen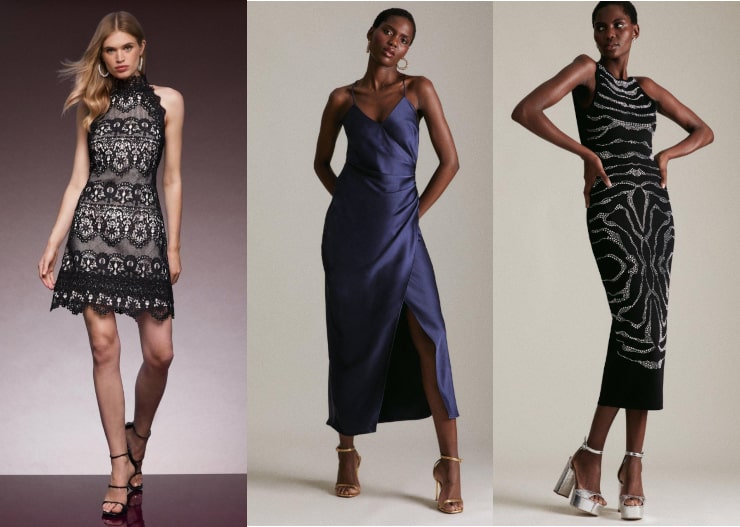 Compared with ASOS's young and fashionable, British fashion brand Karen Millen is mostly mature styles, and the price belongs to the middle and high-end. Brand clothing has its own unique style in terms of tailoring, fabric materials, patterns and so on.
It also has its own special area for party dresses. From general Smart Casual to more formal party dresses, you can find good styles that suit you.
Favorite Product Recommendation
Guipure Lace Woven Halter Mini Dress
Satin Ruched Side Midaxi Slip Dress
Hotfix Mirrored Animal Knit Maxi Dress
maje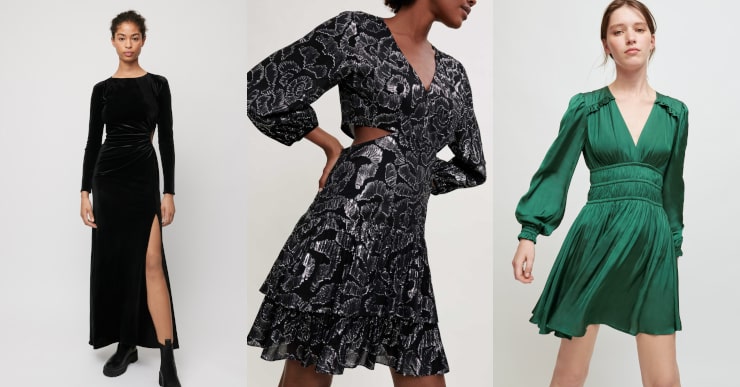 Maje from Paris is good at using a simple design, with fresh colors, puff sleeves, butterfly collar and other girly elements to create the unique artistic temperament of French girls.
Especially ladies' tops and small skirts are worth buying. At the Party Season, maje also opened up the Partywear area.
Favorite Product Recommendation
Monsoon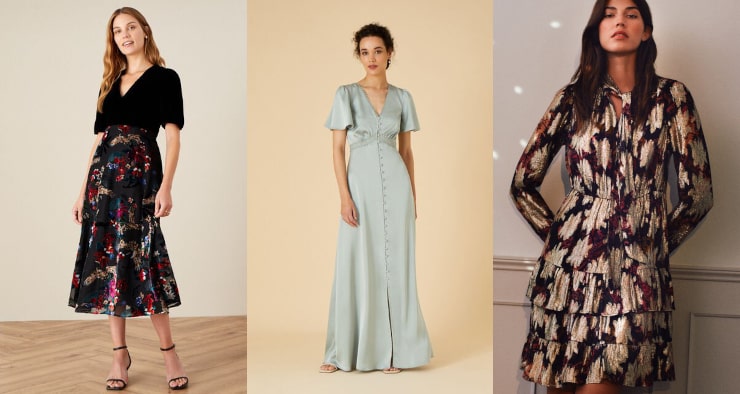 Compared to a party dress of several hundred pounds, the price of Monsoon, which comes from the same door as the famous accessory brand Accessorize, is much closer to the people. There are many styles of dresses at home, with prices ranging from dozens of pounds to hundreds of pounds, which can save you a lot of dress budget. It also has a special section for bridal dresses and bridesmaid dresses. Girls who are ready to enter the marriage hall can also plan for your "wedding suit".
Favorite Product Recommendation
Carena Crane Devore Velvet Midi Dress Black
Ivy satin lace maxi dress green
Drew pussybow frill dress black
Reformation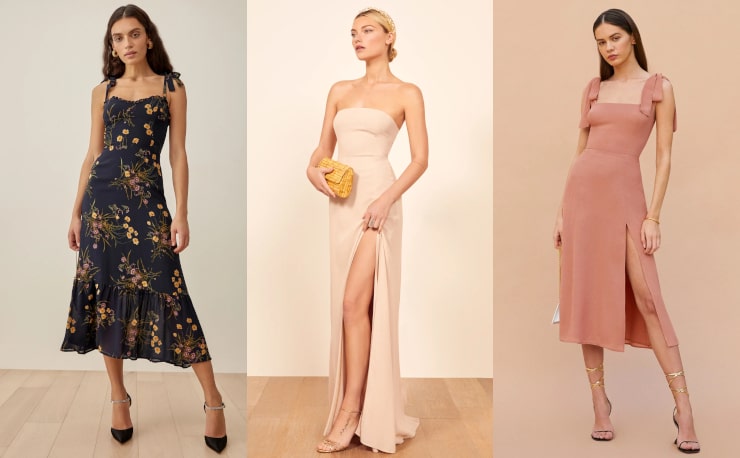 Reformation, a women's clothing brand from the United States, is now well-known and has more than one million followers on Instagram. Its tea-break skirts and French print skirts are popular hot-selling styles. The fabrics and tailoring pursue a close-fitting effect, highlighting the exquisite and good body; the side slit design reveals one side of the beautiful legs, and the sexy level is instantly full.
Reformation's dress style is much younger than other brands. The slim-fit suspender slit dress is not only flexible but also reveals a sexy design, which is really eye-catching!
Favorite Product Recommendation:
REISS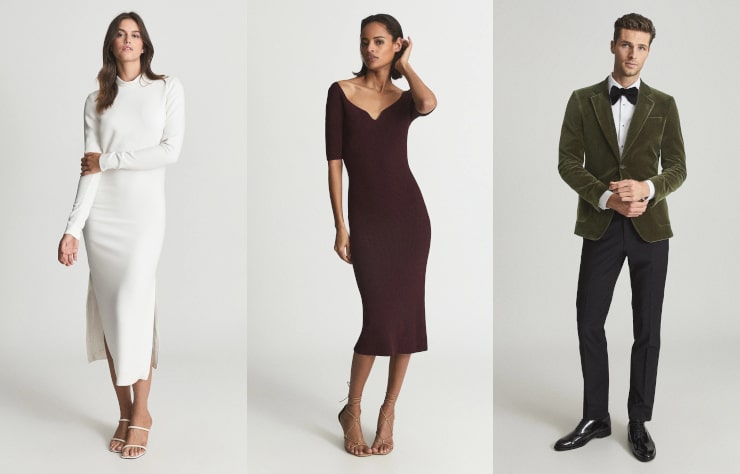 The famous British high street brand REISS focuses on mature clothing styles, mainly plain colors, simple and generous styles, which are very suitable for boys and girls in the workplace.
There are many choices of men's and women's dresses. Girls can choose a one-piece suit with a strong aura or a three-dimensional tailored dress. The styles of boys seem to be the same, but they can actually be fitted with bow ties at the dinner party or casual dresses. You can switch between collar sweaters and shirts freely, so you can join banquets and parties!
Favorite Product Recommendation:
OLIVIA SWEETHEART NECK MIDI DRESS BURGUNDY
GROOVE VELVET SINGLE BREASTED BLAZER GREEN
Ted Baker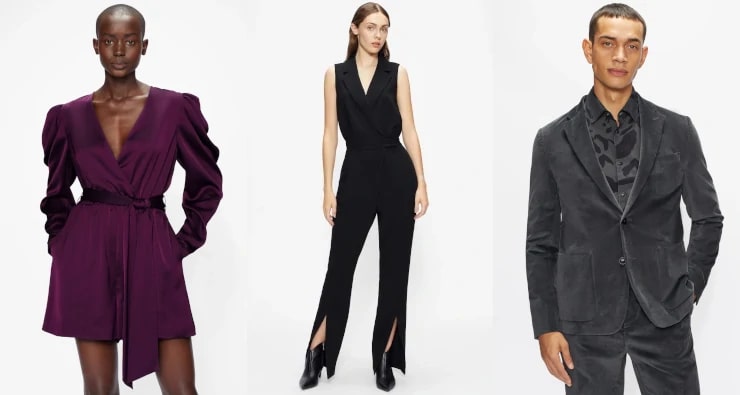 Ted Baker from London is a very popular fashion brand, with exquisite workmanship, and there are always some very unique highlights in the design. Clothing, bags, shoes, and accessories are also very interesting and are a very representative brand of British clothing.
This Christmas, Ted Baker also opened up its own Partywear area. All kinds of fabrics and shapes are well matched. If you want to go to a more formal party, you can go to its house and take a closer look.
Favorite Product Recommendation:
LIANNII Playsuit with exaggerated sleeve
T.M. Lewin
Finally, let's look at a good place for men's dresses. It is the old British formalwear brand T.M. Lewin from London. The brand was founded in the early 20th century and has been in business for more than 120 years. The century-old store is absolutely trustworthy. It selects high-quality fabrics from all over the world, and adopts British traditional clothing craftsmanship and cutting techniques. Whether it is daily wear in the workplace, or banquet parties, there are styles. Men can choose party-specific dresses in the dinner shirt section, formal shirt section, dress suit section and wedding suit section.
Favorite Product Recommendation:
Well, I will share the best party dress brands for the Christmas season.
Whether it is a student party or a professional person who wants to choose high-end styles or affordable styles, these 10 brands can meet different needs. All kinds of banquets and parties will have different dress codes for dresses. If you want to know more about the must-have items for the Christmas season, don't forget to pay more attention to us!