I remember that at the beginning of October every year, major beauty brands and websites will release the annual "Advent Calendar", which is also the carnival season for beauty lovers. This Advent Calendar, originally originated in Germany in the 19th century, was used by people at that time to record 24 days before the birth of Jesus in December. With the development of the times, merchants have fully expanded the variety of Christmas calendars, from chocolates, fine snacks to beauty calendars. As a Christmas countdown event, the Christmas calendar is made into a small window, and a small window can be opened every day according to the date, and a gift can be harvested.
In the same way, are you eager to wait? Then I will not continue to sell off, this will give you a clear mystery of this year's beauty skincare Christmas calendar according to the price range!
High-end luxury
Armani Beauty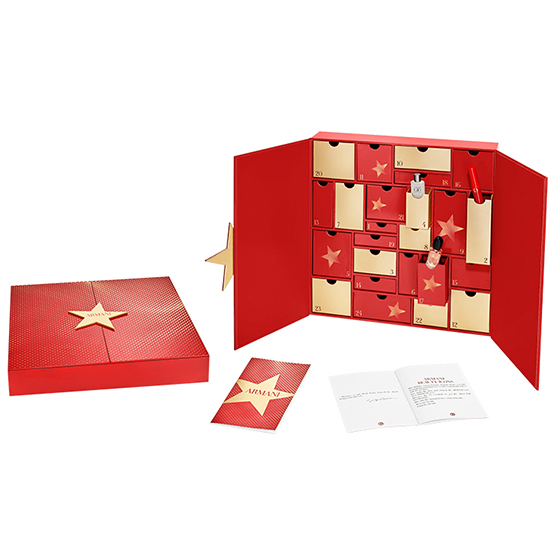 First of all, the first good news is that Armani finally launched its first Christmas calendar this year! Looking at the gorgeous appearance of the red gold color, you can't move your eyes! The first opening is sure to be fully prepared. Armani's calendar has a wide range of products, from the ready-to-wear Eyes to Kill Stellar four-color eye shadow tray, super classic velvet lip glaze 400 and other beauty items to makeup remover and eye cream. Other skin care products, then to the Si series of perfumes… even include some exclusive accessories. With a super-inspired multi-category product portfolio, Armani's first Christmas calendar will definitely bring you a full countdown!
Charlotte Tilbury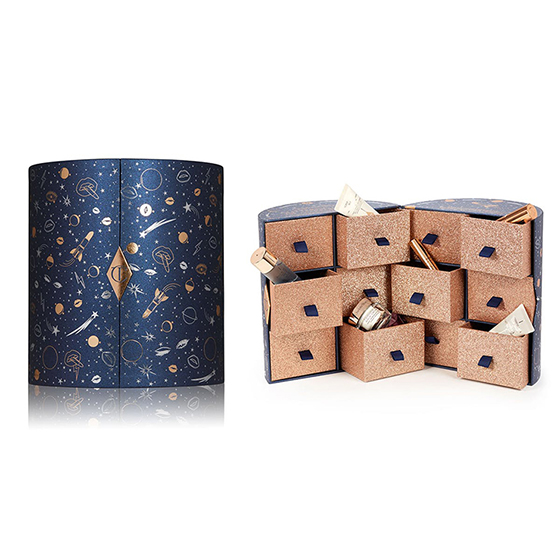 Charlotte Tilbury's Christmas calendar is still composed of 12 countdown boxes. It is as gorgeous as last year. It is also very good to keep the storage box! Although the product is small, 12 drawers are filled with CT bestsellers. For example, the highly acclaimed Goddess Skin Clay cleansing mask, miracle cream, lipstick, essence, etc., a box to get the daily needs. CT users, or friends who are hesitating to enter the pit, can take advantage of this time to buy an attempt.
Cult Beauty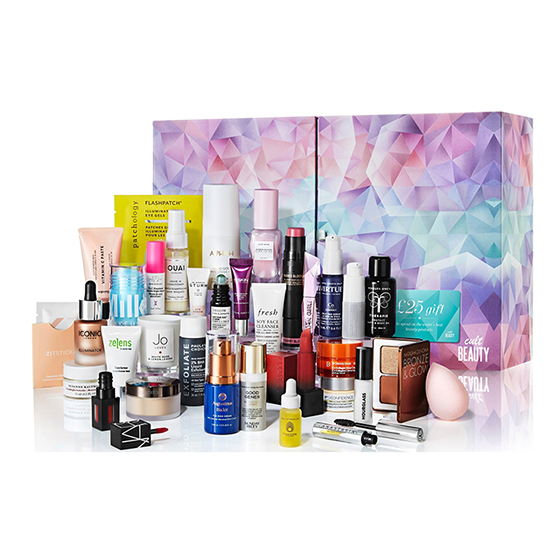 Cult Beauty's Christmas calendar this year is quite worthwhile! Hot items from 24 brands including Natasha Gloss, Huda Beauty Lipstick, Drunk Elephant Essence, BeautyBlender Beauty Egg, Laura Mercier Loose Powder are all on! After Christmas, this surprise will last for ten days: there will be 10 kinds of Christmas gifts waiting for you after the 25th door, including Hourglass Cream, Zelens Mask, Nars Lipstick, Too Faced Mascara and Omorovicza. Skin care oil and more. The "Treasure Box" with an actual value of more than 680 pounds can now be collected for as long as 195 pounds. Hesitantly, go to fill in the email registration, and get a rush after you receive the notice!
Diptyque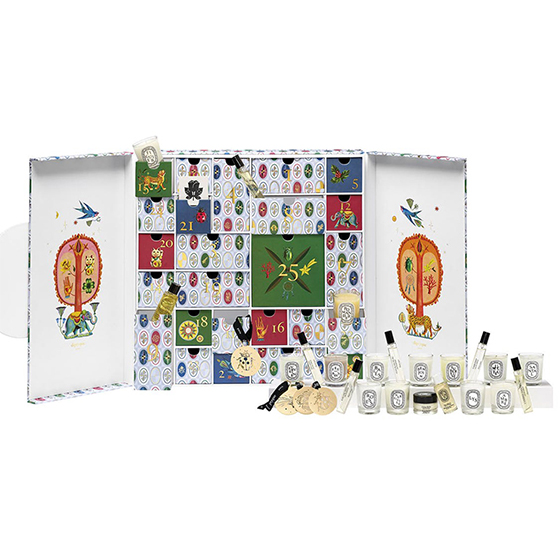 Diptyque's Christmas calendar this year was created by German illustrator, painter, artist, graphic designer and author Olaf Hajek. It is only a piece of art when viewed from the packaging. The gorgeous pattern exudes a strong personality. The calendar contains a total of 13 mini candles, a 70g large candle, 6 classic scent mini perfumes and 5 mini body care products. Almost all the lines are in this box of Christmas calendar, a box can basically contract the fragrance of the whole year next year, I can't wait to buy it!
ESPA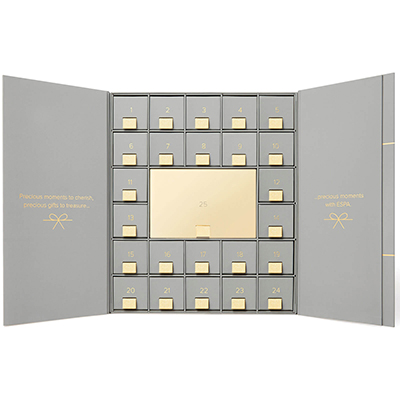 The spa brand ESPA, which specializes in high-end spa skin care, also sells its Christmas calendar. The spa for the five-star or higher-end hotel is the product of its home. The goal of "taking the spa level to take home" seems to be this winter. Arranged! The atmosphere of the Morandi gray tone box just gave the eyes a quiet feeling, and the small drawers arranged neatly opened me a lot of strong comfort. The calendar is worth mentioning. It has its own ace product, Optimal Skin ProCleanser, which is a facial cleanser with cleansing, scrub and mask. After washing, the skin is bright and moist, and the rest of the sleep hydrating mask, bathing Oil, cream products, etc. are also star products, more than 20 sets of a whole set of homes to try one by one, bathing has become a pleasure!
Harrods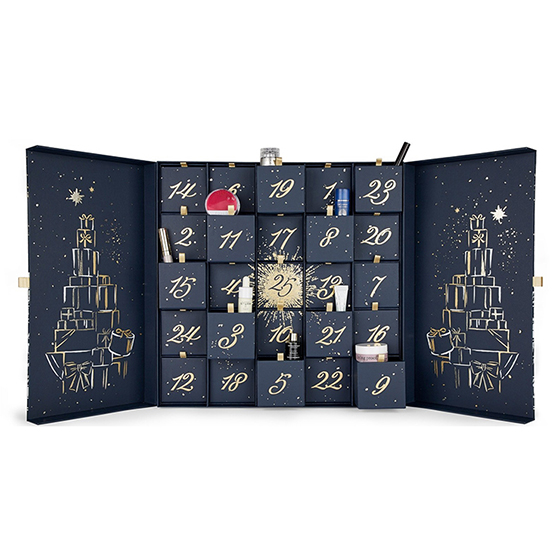 Harrod's Christmas calendar packaging this year follows the simple and elegant route of the past year. The ink-blue background is the outline of the Harrods department store with graphite, and a fireworks blooms, reflecting the "HARRODS" golden neon sign. When the double-opening door is opened, there are 25 small-sized drawers with an average distribution, each of which has a single item wrapped in a Harold bag. I am a little spoiler first, this time the item has a sly eye cream, FOREO face wash, black tea yeast extract, Fallman eye gel, etc…
Jo Malone London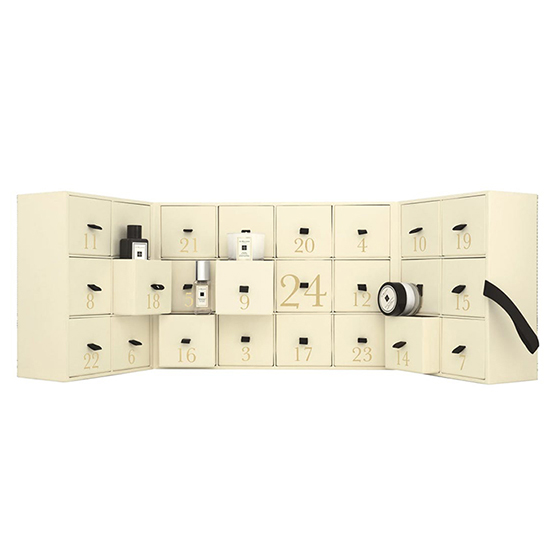 Jo Malone don't have to say much, although everyone spits on it, its perfume is too short, but the body has been buying and buying honestly. From the usual experience, this gift box will be sold out quickly after it is released… This year's Christmas calendar with 24 drawers covers almost all the classic flavors of perfume, hand soap, body wash, fragrance, body lotion.
John Lewis & Partners
John Lewis's Christmas calendar is available for purchase. The products included in the gift box include Neom Candle, Sisley Supremya Night Cream Eye Cream, This Works Sleep Spray, Nars Bronze Powder, Bell Bell Emei Gel, Dermalogica Exfoliating Powder, REN Fruit Spray , Lancome black bottle, Clinique universal makeup remover, BB eye shadow stick, Elemis collagen night cream, YSL gold tube mascara, Becca highlights, CT makeup, Parma hat set, etc., are some super practical classics Product. Pick up the hands, rush!
Kiehl's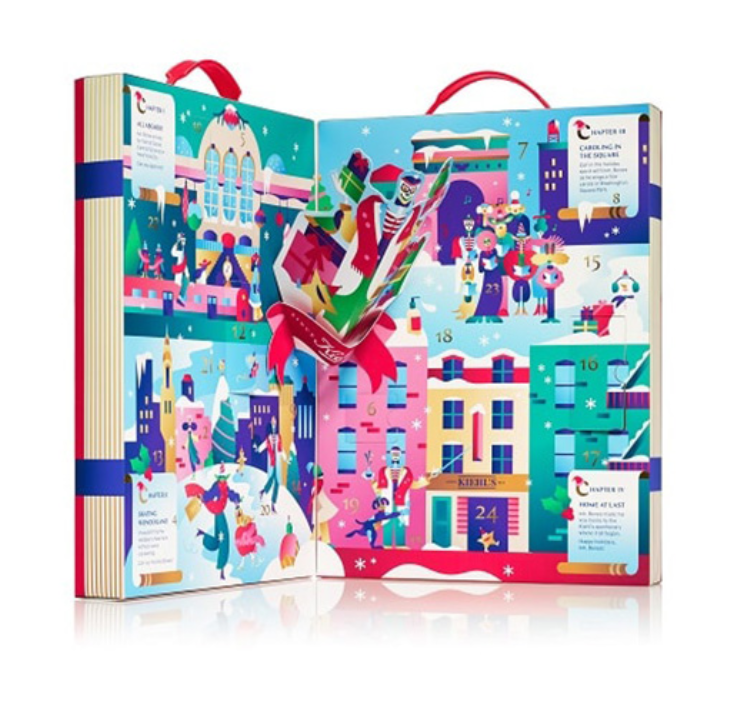 There are two Christmas calendars for this year: one is on the official website and the other is from Selfridges. The calendar package of Ke Yan's official website version is so cute! A colorful cartoon pattern, after opening, will also show a super funny three-dimensional greeting card, the calendar shape is also a small box to be opened. Contains 23 products, including the most classic creams, eye creams, lipsticks and other popular products. The version of the collaboration with Selfridges has not yet been announced, but the 12 products in the gift box are also the star of the brand.
Liberty London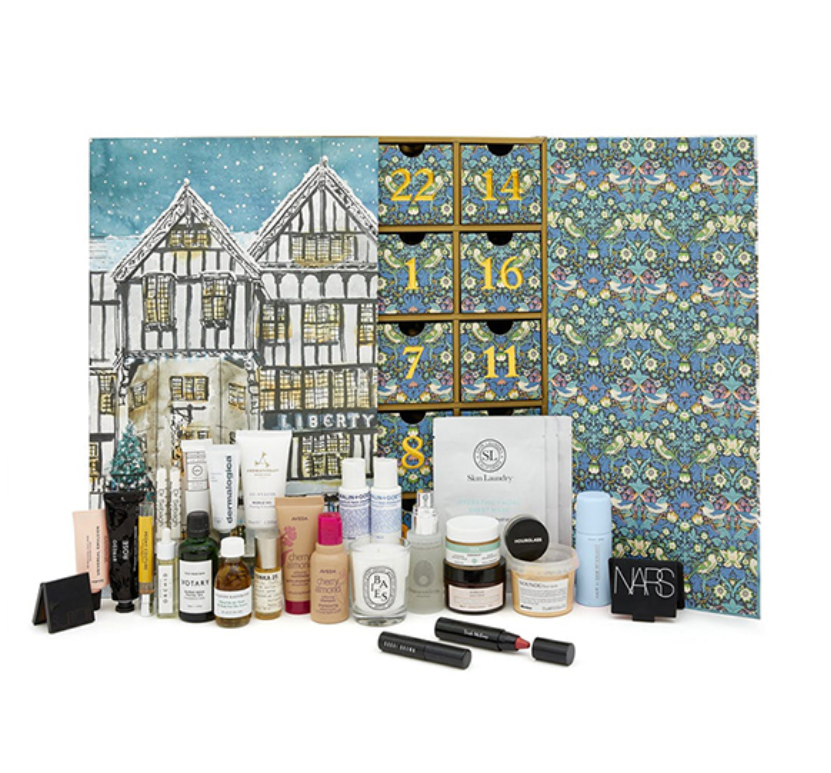 Liberty's annual Christmas calendar is very informative and extremely popular, and it's basically a second after the sale. It seems that once again, I have to fight again every year! Although the price is in the classification of high-end luxury, the products contained in others are indeed worthy of this "worth". I can't move my eyes when I see Diptyque's small candle… There are more than 20 kinds of products, such as Nars climax, Bobbi Bown mascara, and OMOROVICZA spray. Each one is a big name in the beauty and skin care industry. .
Molton Brown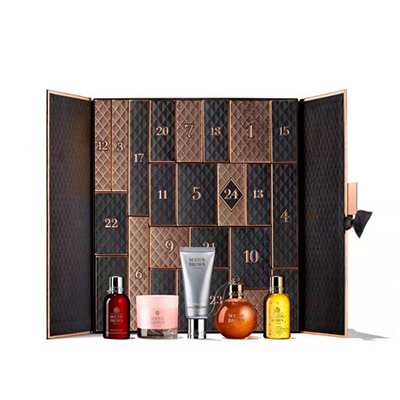 Molton Brown, which specializes in pure plant formula, has always been a brand based on word of mouth. Just mentioning Molton Brown in the UK is like labeling a "quality guarantee". From its famous shower gel to the scent of a variety of candles, each piece has a great sense of use. Exquisite babies are rushing to Christmas to give themselves a set of advanced toiletries. This year's Molton Brown's Christmas calendar package is like its product, low-key and high-grade, brown and rose gold color is calm and slightly gorgeous. The product is also upgraded to the next level, including the Christmas limited edition perfume and a series of more than ten luxury items across the hair, candles, body!
NET-A-PORTER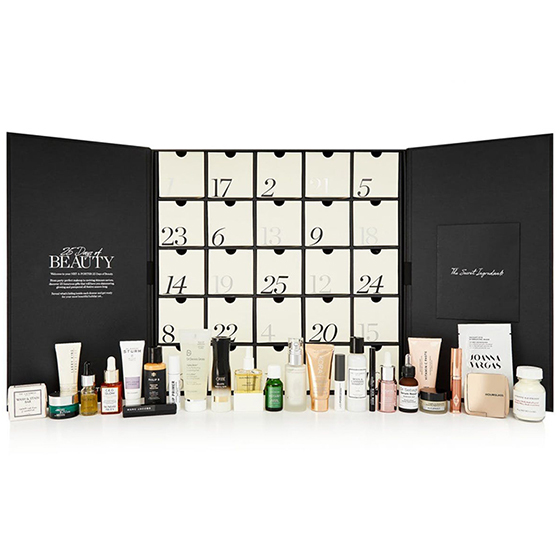 NET-A-PORTER's Christmas gift box continues this year's simple and elegant black-and-white style. The pure black box with the bow tie is opened and contrasted with 25 milky white drawers, arranged neatly. Come, you really can hold back only one small drawer a day! The gift box includes Dr Sebagh, Omorovicza, 111 Skin and many other well-known skin care and beauty brands. This autumn and winter, start a Christmas gift box and continue to be a beautiful little fairy or a cool fairy!
Space NK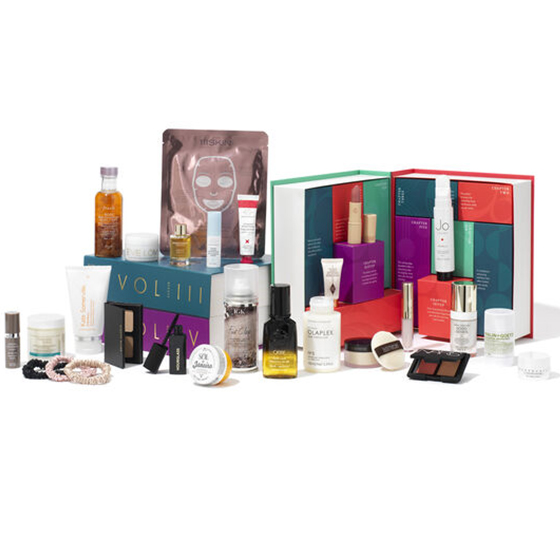 Space NK's Christmas calendar has created a new design in its design. Unlike other brands, its packaging is divided into four drawer boxes, especially with a set of books. Each drawer box is open with small boxes. If you open them all at once, the "map" at the bottom of the box will also guide you to put them all back in the right place. I simply looked at the products: Eve Lom cleansing cream, drunken face cream, Christophe Robin scalp cleansing salt, NARS orgasm blush high-definition discs… All are renewed for thousands of years, the total value of the treasure worth £483 The light of Christmas can be won as long as 195, so I don't have to say anything about it!
YSL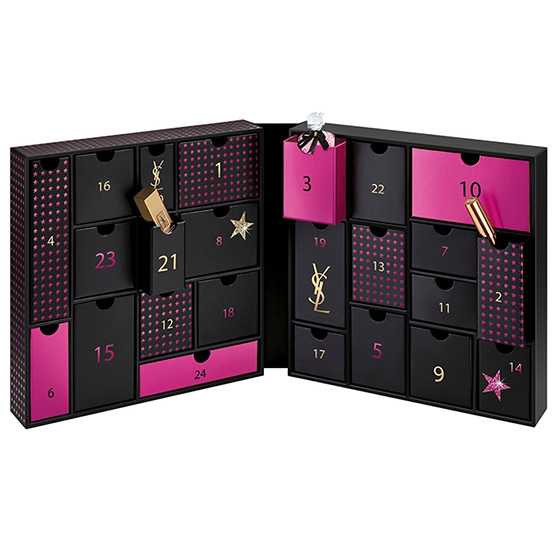 This year's YSL Christmas calendar contains almost all the categories of the brand, 24 small plaid from mirror lip glaze, square tube lipstick, to black opium perfume, are all YSL's most popular and most worthy items. The combination of pink and black is embellished with a gilded countdown, classic YSL feminine style. The dressing table is surrounded by various YSL popular products and it sounds good.
轻奢型
Beauty Expert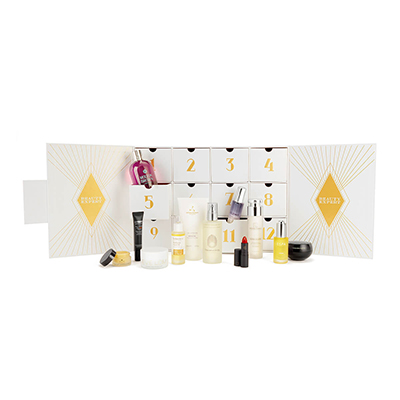 Beauty Expert's Christmas calendar this year is a fresh and minimalist style. The pearl-white box is symmetrically drawn by the pale yellow lines, which is extremely comfortable visually! Although there are only 12 small drawers, I glanced at the included items and expressed my true heart! Eve Lom's explosive makeup remover, Illamasqua net red moisturizing makeup lotion, Molton Brown pink pepper shower gel, and the super-use Lipstick Queen's positive palace red lipstick, etc., the total price of more than 450 pounds of baby now only 100 pounds Can hold all the home, worth noting yourself!
Clinique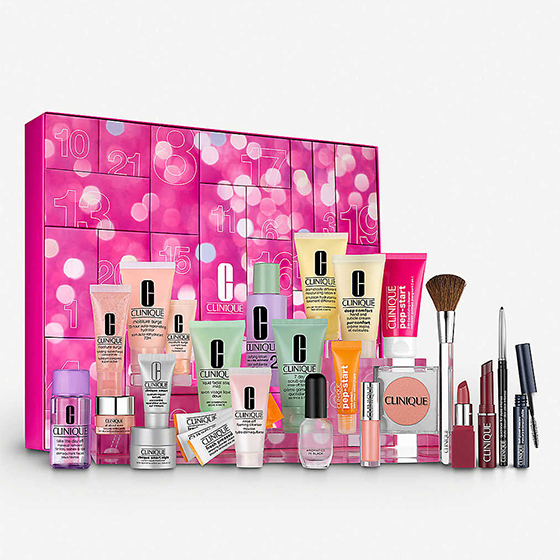 Clinique, has to mention the famous theory of skin care trilogy: clean, clean the cortex, water and oil balance. This theory is a milestone in the history of skin care. Start with its Christmas calendar, and the products in 24 small grids will definitely let you fully experience the fun of skin care. This year's Christmas calendar is full of pink and dreamy girls. The large and small drawers "hidden" the brand's classic butter emulsion, facial soap, repair night cream, mask, blush and other 24 products. Turning into skin care will start from this Christmas!
Decléor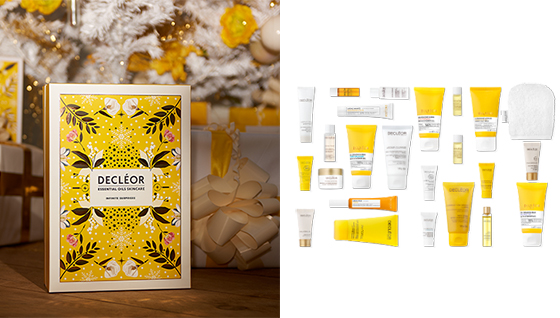 Founded in 1974, DECLÉOR Skin Care Cosmetics is the world's leading aromatherapy cosmetics brand. This year's Christmas calendar packaging is very beautiful, the warm yellow and clean white edges are perfectly combined, it looks textured and full of Christmas atmosphere. The gift box includes 24 super luxurious skin care products, such as moisturizing cream, essential oil, cleansing milk, etc. The range of products from formal wear to travel wear is complete, it can be said that it is very intimate!
Lancôme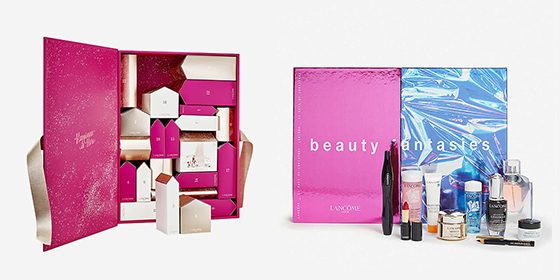 Lancome has two versions of the Christmas calendar this year, one at Boots and the other at Selfridges. Both versions have adopted a large area of pink design, which is worthy of the "girl Lancome" that girls love. Products ranging from small black bottles, powdered water and other skin care products to lipsticks, mascaras, and perfumes, a wide variety of products, practical, the key is that the price is really cute compared to the luxury calendar in front.
Lookfantastic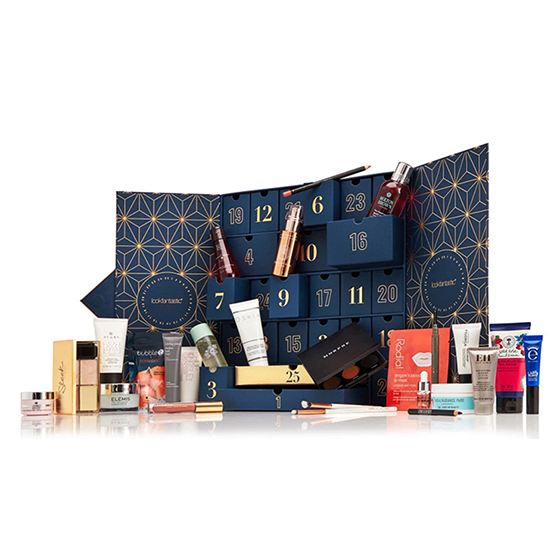 The packaging of Lookfantastic's Christmas calendar this year can be said to be full of sense of luxury. The mysterious blue box, the golden countdown number, the last 25th is also designed to be a unique all-gold. The baby with a total value of more than 420 pounds can be won as long as 79 pounds. This price is simply cute! Secretly tell you that there are various popular word-of-mouth brands such as Emma Hardie, ESPA, Caudalie, PRAI, Omorovicza, and Filorga. Friends who are playing Christmas calendar for the first time may wish to get started with Lookfantastic!
Rituals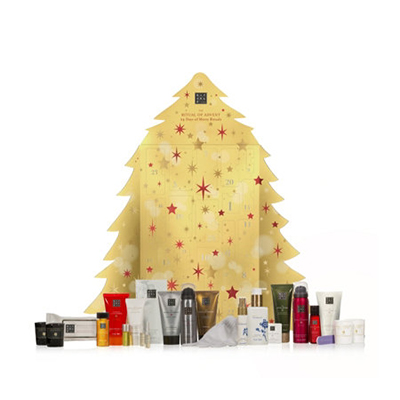 The Dutch national brand Rituals specializes in body care, aromatherapy and spa products. The fragrance of each product is carefully created by the perfumer. It is a cost-effective brand that Europeans love to pursue at home. Its Christmas calendar of this year made a big red gift box with a golden ribbon and a festive atmosphere. Open the gift box is a "one" golden Christmas tree, ace product body scrub (70ml), foam shower gel, samurai ice shower gel (70ml), sweet orange cedar body milk (70ml), soft skin cleanser (30ml) ……The small drawer is full of Dangdang, there are 24 kinds of products, all care products for the body skin, as well as scrub gloves.
Affordable
L'Occitane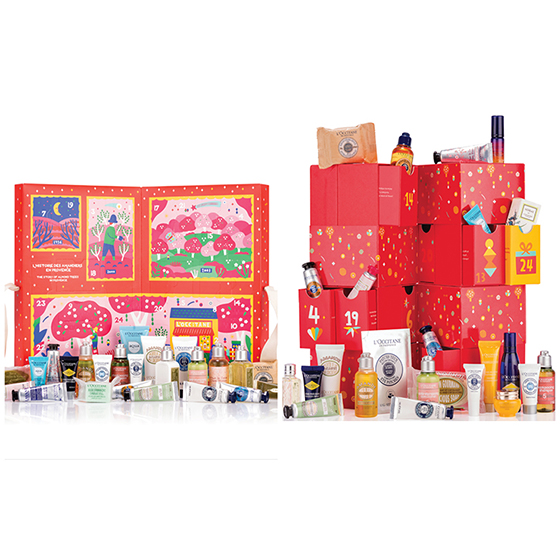 The L'Occitane's Christmas calendar this year is divided into two sets, the classic version on the left and the deluxe version on the right. The products include a variety of body care products such as hand creams, body washes, body lotions, and foot creams. Every taste is sweet and fragrant, very few women. Friends who are always interested in this brand but don't know how to start, can buy a classic version of the calendar to try the water; if it is the old powder of its home, go straight to the luxury version. At present, these two sets of calendars have been sold on the official website.
The Body Shop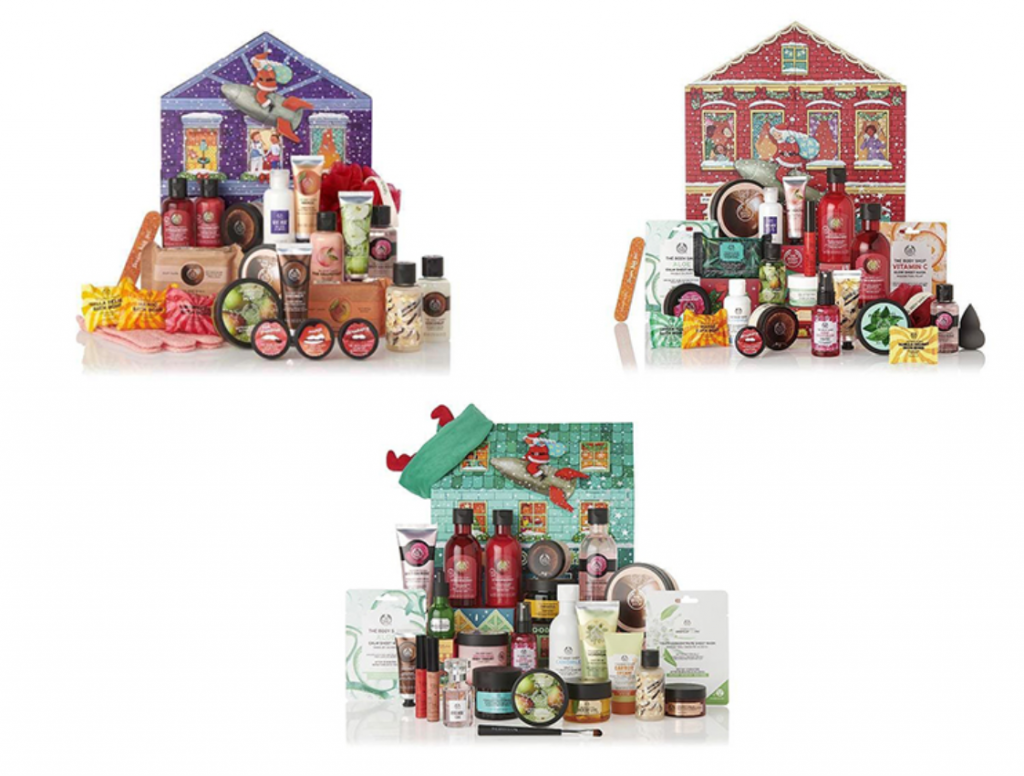 Like last year, The Body Shop released three different Christmas calendars of different prices this year, each of which is a purple common gift box containing 24 brands of branded bathroom and body series, such as 60ml coconut body cream and English rose bath. Liquid and so on; the red luxury gift box has 25 luxury gifts, from skin care to beauty products. After all the disassembly, the box can be transformed into a fun Christmas game; the final green gift box contains 25 14 of the products are genuine, with a total value of up to 248.50 pounds.
Ok, I shared so many Christmas calendars for 2019 in one breath today. Did you satisfy all your curiosity? I hope everyone can have a happy Christmas! You are also welcome to share this article to facebook or Twitter to your friends.