The Lake District, located in North West England, is one of Britain's most scenic areas. It has England's largest national park and 16 lakes surrounded by mountains.
This guide covers the main towns and attractions to visit during your trip to the Lake District.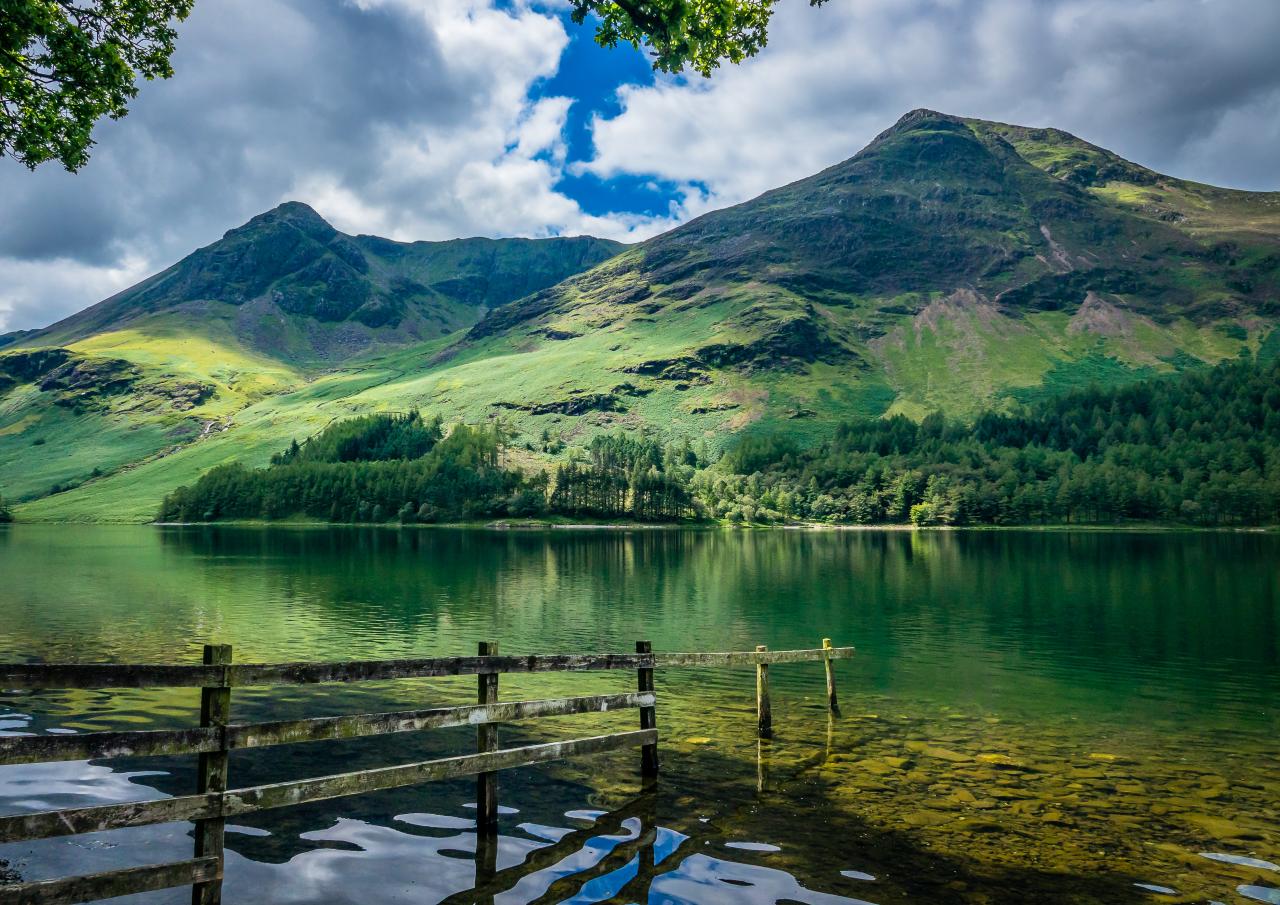 The Central Lakes
1.Keswick
Keswick is situated in the northern part of the Lake District, on the shores of Derwentwater. It is a bustling market town and a perfect base to explore the surrounding lakes and fells.
Address: Keswick, Cumbria  CA12 5HR
Website: keswick.org
Must-see attractions:
-Derwentwater Lake: Take a boat ride on the scenic 3-mile lake or go kayaking and sailing.
-Castlerigg Stone Circle: One of Britain's most ancient stone circles set against the backdrop of Helvellyn and High Street fells. Admission is free.
-Whinlatter Forest Park: Spot wildlife like red squirrels and crossbills along the hiking trails. Admission charges apply for some activities.
2. Ambleside
Ambleside is a picturesque town in the heart of the Lake District on the northern bank of Windermere lake. It is surrounded by mountains like Kirkstone Pass, Rydal Mount and Fairfield Horseshoe.
Address: Ambleside LA22 0DT
Website: amblesideonline.co.uk
Must-see attractions:
-Windermere Lake Cruises: Take a boat tour of England's largest lake with stops at Bowness and Lakeside. Round trip fares from £10.75 for adults.
-Rydal Mount: The family home of poet William Wordsworth with landscaped gardens. Admission: £7 for adults.
-Bridge House: One of the smallest buildings in Britain. Admission to the 17th-century stone building is free.
3. Grasmere
Grasmere is a picturesque village centered around St. Oswald's Church and Grasmere Lake. It is overlooked by the Grasmere Fells and Helvellyn. This was once home to the famous poet William Wordsworth.
Address: Grasmere, Ambleside LA22 9SX
Website: grasmerevillage.co.uk
Must-see attractions:
-Dove Cottage and Wordsworth Museum: The home of William Wordsworth now a museum dedicated to him. Admission: £7.70 for adults.
-Grasmere Lake: Go boating or follow the scenic walking trails around the lake with views of the fells.
-St. Oswald's Church: A historic church where William Wordsworth is buried. Admission to the church is free.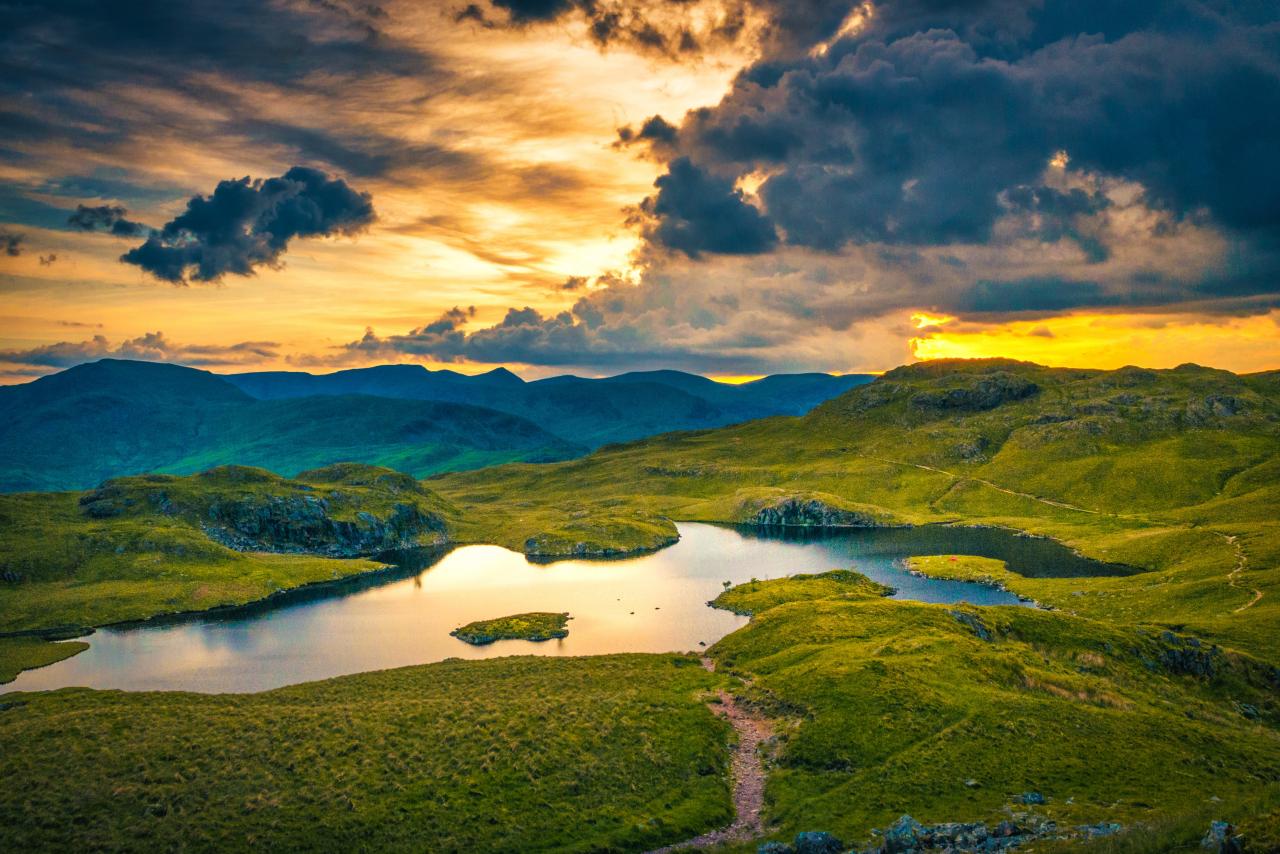 Western Lakes
4.Hawkshead
Hawkshead is a picturesque village in the Western Lakes near Lake Windermere. It has connections to the poet William Wordsworth who attended school there. The Beatrix Potter Gallery is located in the village.
Address: Ambleside LA22 0QX
Website: hawkshead.uk.net
Must-see attractions:
-Beatrix Potter Gallery: The former home of Beatrix Potter now an art gallery dedicated to her life and work. Admission: £6 for adults.
-Claife Viewing Station: An 18th-century viewpoint with scenic views of Lake Windermere. Admission: £4 for adults.
-Windermere Lake Cruises: The cruise departs from Waterhead Pier in Ambleside and stops at Hawkshead. Round trip fares from £10.75 for adults.
South Lakes
5. The southern end of Lake Windermere and lake Coniston region has picturesque tarns, fells and quaint villages to explore.Must-see attractions:
-Windermere Jetty & Museum of Boats, Steam and Stories: A museum housing historic boats, vintage equipment and interactive displays. Admission fees apply.
-Coniston Water:  A scenic 5-mile lake where Donald Campbell set the world water speed record. Go boating, fishing or hiking around the lake.
-Ruskin's Study at Brantwood House: The historic home of John Ruskin, a leading art critic of the Victorian era. Admission fees apply.
-Tarn Hows: A scenic man-made tarn surrounded by woodlands, with paths ideal for walking and cycling. Admission is free.
6. Kendal
Kendal is a historic market town located on the River Kent just south of Lake Windermere. It is known for Kendal mint cake, a confection popular with mountaineers and hikers.
Address: Kendal LA9 4AD
Website: exploresouthlakeland.co.uk/places/kendal
Must-see attractions:
-Kendal Castle: A medieval ruins of a castle situated on a hill overlooking the town. Admission: £5 for adults.
-Abbot Hall Art Gallery: An art gallery housing a fine collection of George Romney's portraits and paintings. Admission: £7 for adults.
-Kendal Museum: A museum documenting the history, art, culture and environment of South Lakeland. Admission: £3 for adults.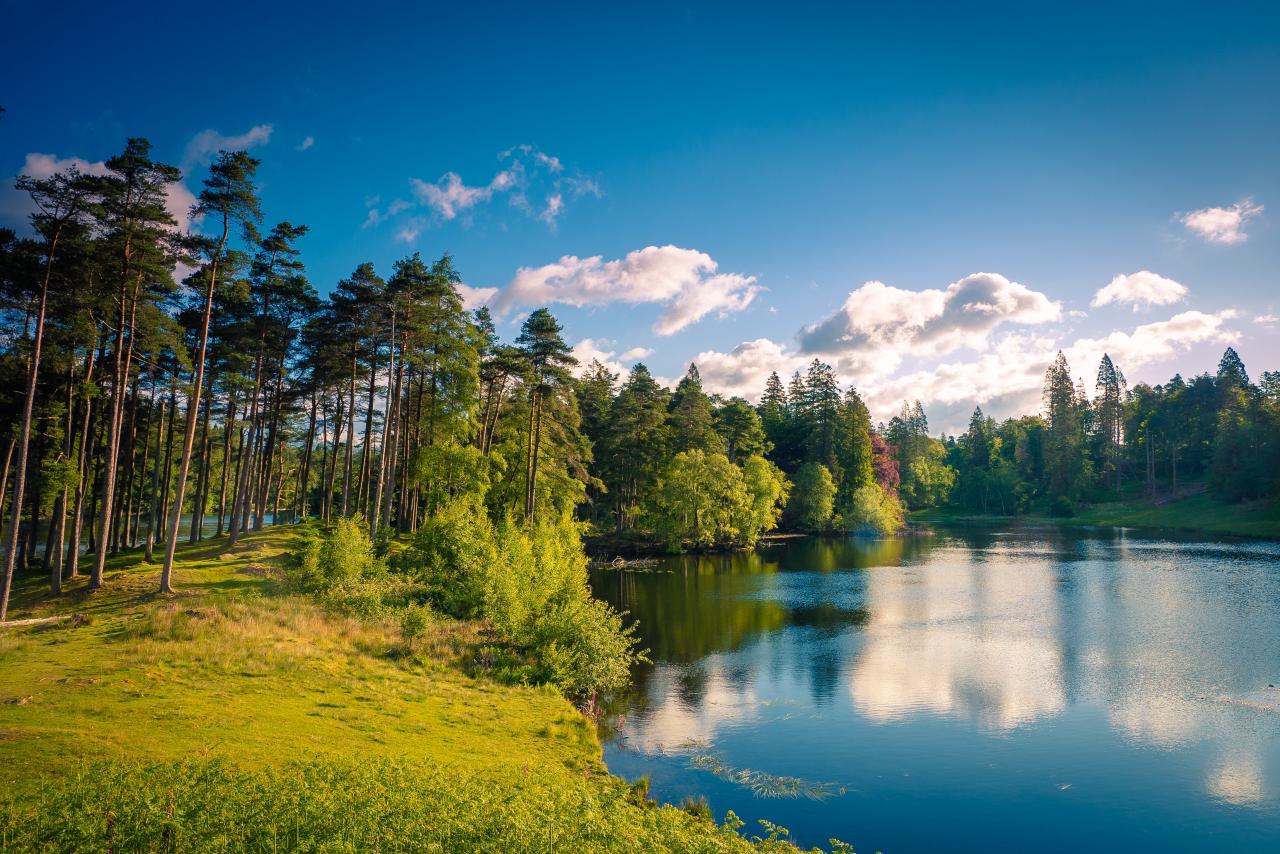 Northern Lakes
7. Penrith
Penrith is a historic market town located on the eastern edge of the Lake District. It is a gateway town to the Northern Lakes region with Ullswater lake nearby.
Address: Penrith, Cumbria CA11 7QY
Website: visiteden.co.uk/explore/towns-and-villages/penrithMust-see attractions:
-Penrith Castle: A 14th-century border castle ruin overlooking the town. Admission: £5 for adults.
-Rheged: An underground visitor centre with shops, cafes, cinema and various exhibitions. Free admission.
-Ullswater Lake: The second largest lake in the Lake District popular for walking,boating and cycling along the Ullswater Way.
8. Keswick to Ullswater Valley
between Keswick and Ullswater Valley has scenic lakes, tarns, mountains and villages to explore.Must-see attractions:
-Aira Force: A scenic 65-foot high waterfall located in a peaceful wooded glade. Admission: £6 for adults.
-Gowbarrow Park and Aira Beck: A scenic park crisscrossed by walking trails following a picturesque lake and stream. Admission is free.
-Glenridding: A picturesque village on the shores of Ullswater Lake overlooked by Helvellyn range. It is a popular starting point for walks around Ullswater Way.
-Glencoyne Bay: A scenic bay on Ullswater Lake surrounded by woodlands and fells. It is a perfect picnic spot with glorious views.
9. Wastwater
Wastwater is England's deepest and most dramatic lake. It is situated among the mountain peaks of Scafell Pike, Great Gable and Kirk Fell in Western Lakeland.
Website: lakedistrict.gov.uk/visiting/enjoy_outdoors/water/wastwater
Must-see attractions:
-Wastwater Lake: A scenic 4 mile-long ribbon lake with walking paths. It is a popular spot for fishing, sailing and canoeing with stunning views of the fells.
-St Olaf's Church: A picturesque 12th-century church on the banks of Wastwater, overlooking the lake and mountains.
-Scafell Pike: England's highest mountain at 3,209 feet. Experience dramatic views from the challenging climb to its peak.This covers the major highlights in the Northern Lakes and Western Lakeland region.
Other Useful Information for Your Trip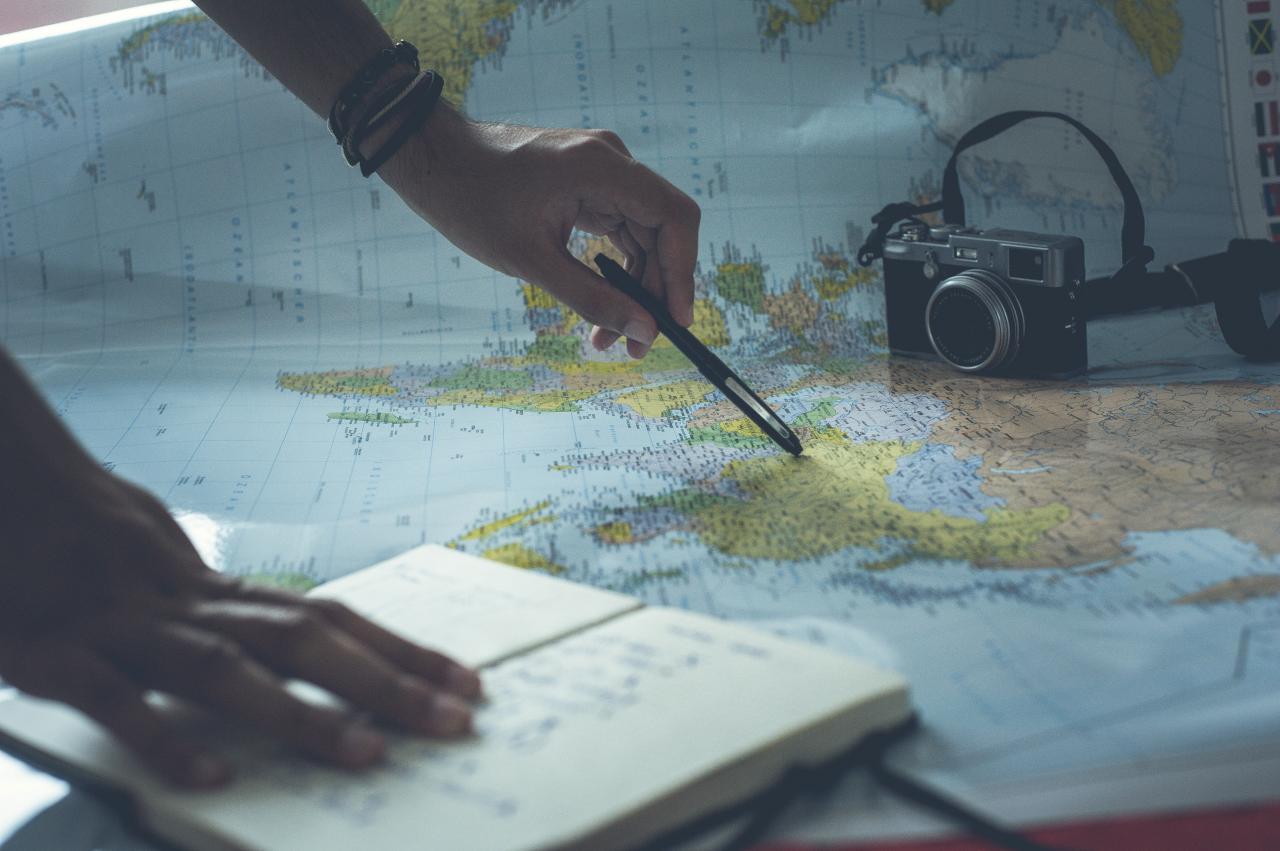 Getting There and Around
The Lake District is easily accessible by car with the M6 motorway running through the western edge of the national park. The nearest major train stations are Oxenholme Lake District and Penrith which have connections to London and major cities.Bus services provide a way to get around the Lake District without a car. Stagecoach operates comprehensive bus networks with travel passes like the MegaRider and Keswick & Western Valley Dayrider available. Boat services on major lakes and ferries also provide a scenic means of transport between towns.
Accommodation
The Lake District offers a range of accommodation from B&Bs, guesthouses, hotels, lodges, to hostels and campsites. Keswick, Ambleside, Hawkshead, and Windermere all have plenty of accommodation options. For a unique stay, you can book a boat cabin or tipi. Camping and glamping are also popular with many scenic campgrounds around the lakes and in mountain valleys.
Dining
There is no shortage of dining options in the Lake District from pubs, cafes, restaurants to food stalls. Many places use fresh local produce like Herdwick lamb, Cumberland sausage, Grasmere gingerbread and real ale.
Some recommendations would be:-The Wild Boar Grill & Smokehouse in Windermere: Offers high quality and affordable barbeque fare.
-Yankee Hall at Holehird Gardens: A stylish cafe serving homemade cakes, snacks and afternoon tea in beautiful gardens.
-Britannia Inn in Elterwater: A traditional inn serving cask ales and homely dishes with scenic views of Langdale Fells.
-Swinside Inn near Keswick: A creeper-clad inn dating to 1848, known for real ales and rustic fare using regional ingredients.
Closing Notes
The Lake District attracts 13.4 million visitors annually, especially in summer and bank holidays. I would recommend visiting in spring from March to May and autumn September to October when the crowds are smaller.
No matter the season, be prepared for changeable weather. Pack waterproofs, walking boots, maps, a compass and other hiking essentials if exploring the fells and trails.
Enjoy your memorable trip to this outstanding place of immense beauty! Let me know if you have any other questions.