Discover the latest shoe trends; footwear styles at Clarks.
Explore our range of fashionable shoes, trendy sandals, casual trainers; iconic boots. Shop now.
SUMMER SAVINGS – SAVE UP TO 50% OFF
EXTENDED FOR A LIMITED TIME ONLY – Free Standard Delivery on all orders Promotion
·      Clarks will be extending their sitewide limited time promotion giving customers free standard delivery on all orders.
·      Launch: Monday 1st August
·      End: Sunday 14th August 23:59pm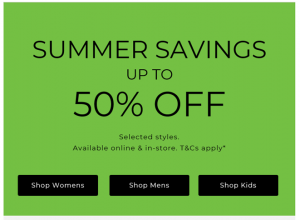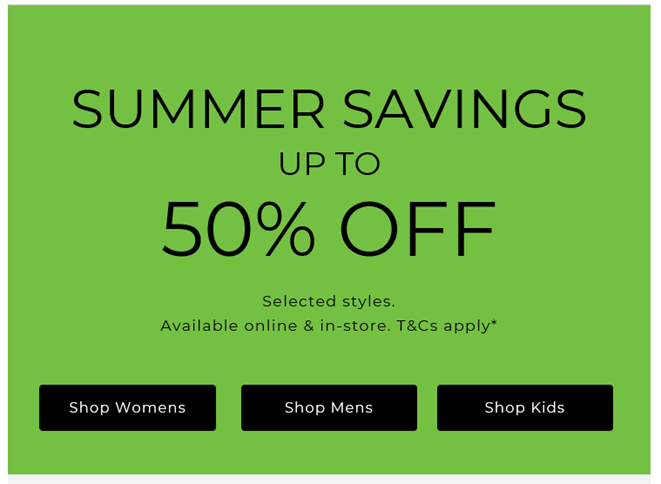 IMITED TIME ONLY Free standard Delivery on ALL ORDERS.
Ends 7th August.
·     The Clarks Summer Sale launches on Monday 8th August offering a massive Up to 50% Off across Selected Men's, Women's and Kids styles.
·     Launch: Monday 8th Aug
·     End: TBC
1.    Clarks – Summer's Not Over, Up To 50% off Selected Styles – SAVE UP TO 50% OFF – Shop Now with free delivery on all orders
https://www.clarks.co.uk/shoe-sale
2.    Clarks – Summer's Not Over, Up To 50% off Selected Styles – SAVE UP TO 50% OFF WOMEN'S- Shop Now with free delivery on all orders
https://www.clarks.co.uk/Womens/Sale/c/ukw81
3.    Clarks – Summer's Not Over, Up To 50% off Selected Styles – SAVE UP TO 50% OFF MEN'S – Shop Now with free delivery on all orders
https://www.clarks.co.uk/Mens/Sale/c/ukm197
4.    Clarks – Summer's Not Over, Up To 50% off Selected Styles – SAVE UP TO 50% OFF KIDS – Shop Now with free delivery on all orders
https://www.clarks.co.uk/Kids/Kids-Sale/c/k19