The UK is renowned for its diverse and beautiful flowers, especially in spring and summer. If you love flowers, here are the top 12 flower destinations to visit in the UK. Get ready to feast your eyes on a floral wonderland!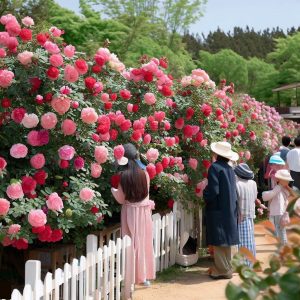 1. Kew Gardens, London
Kew Gardens is a world-renowned botanic garden on the bank of the River Thames in southwest London. It features the largest plant collection in the world spanning across 300 acres. Highlights include the Palm House, Temperate House, and Rose Garden. Admission fee applies.
Address: Royal Botanic Gardens, Kew, Richmond, Surrey, TW9 3AE
Phone: 020 8332 5655
Website: kew.org
2. Hampton Court Palace Flower Show, London
The Hampton Court Palace Flower Show is the world's largest annual flower show. It is held in July at the Hampton Court Palace, set within 60 acres of beautiful gardens. You can see award-winning show gardens, buy rare plants and flowers, and attend demonstrations led by expert gardeners. Tickets need to be purchased in advance.
Address: East Molesey, Surrey, KT8 9AU
Phone: 0844 482 7777
Website: rhs.org.uk/shows-events/hampton-court-palace-flower-show
3. Sissinghurst Castle Garden, Kent
Sissinghurst Castle Garden, located in Kent, is one of Britain's most famous gardens. It was designed in the 1950s by writer Vita Sackville-West. The garden is especially renowned for its roses and delphiniums in June, and dahlias and asters in September. Admission fee applies from March to October.
Address: Biddenden Road, Cranbrook, Kent, TN17 2AB
Phone: 01580 710701
Website: nationaltrust.org.uk/sissinghurst-castle-garden
4. Bloom Flower Show, Dublin
Bloom is Ireland's premier garden festival showcasing garden design, horticulture and floristry. It is held annually in June at the Phoenix Park, Dublin. The show features stunning show gardens, plant villages, floral art and family entertainment. Tickets can be purchased on the official website.
Address: Phoenix Park, Dublin, Ireland
Phone: +353 (0)1 627 2002
Website: bloominthepark.com
5. Eden Project, Cornwall
The Eden Project in Cornwall is home to the world's largest indoor rainforest. Its massive Biomes house a variety of exotic flowers like Bird of Paradise, Impatiens Golden, and Giant Amazonian Water Lilies. Outside the Biomes, the extensive garden displays colorful blooms of daffodils, tulips and other flowers based on the changing seasons. Admission ticket is required.
Address: Bodelva, Par, Cornwall PL24 2SG
Phone: 01726 818890
Website: edenproject.com
6. Cambridge University Botanic Garden
Cambridge University Botanic Garden is Britain's oldest university botanical garden. It has a collection of over 8,000 plant species from all over the world. The garden is especially stunning in early summer when exotic blooms like waterlilies, lotuses and Victoria cruziana are in full bloom. Admission fee applies from April to October.
Address: Bateman St, Cambridge CB2 1JE
Phone: 01223 336265
Website: botanic.cam.ac.uk
7. Trentham Estate, Stoke-on-Trent
Trentham Estate is a scenic garden estate located in Stoke-on-Trent, Staffordshire. It features expansive Italiante gardens, a large lake, and Trentham Monkey Forest. From May to September, the floral displays are in full bloom with vibrant roses, orchids and wildflowers. Tickets can be purchased on-site which include access to the gardens and monkey forest.
Address: Stone Rd, Trentham, Stoke-on-Trent ST4 8AX
Phone: 01782 646646
Website: trentham.co.uk
8. National Memorial Arboretum, Staffordshire
The National Memorial Arboretum is the UK's year-round national site of remembrance. It has 30,000 trees and over 300 memorials on 150-acre grounds. When the Spring season arrives, the arboretum comes to life with blossoming magnolias, cherry blossoms, daffodils and tulips. The arboretum is open daily and admission is free.
Address: Croxall Rd, Alrewas, Burton-on-Trent DE13 7AR
Phone: 01283 245100
Website: thenma.org.uk
9. Exbury Gardens, Hampshire
Exbury Gardens in Hampshire is a spectacular woodland garden that shows off the Rothschild collection of rhododendrons, azaleas, camellias and rare shrubs. The 200-acre garden is at its most vibrant from April to June when most of the rhododendrons are in full bloom. Tickets can be purchased on-site to access the gardens.
Address: Exbury, Southampton SO45 1AZ
Phone: 023 8089 1203
Website: exburygardens.co.uk
10. Westonbirt, The National Arboretum, Gloucestershire
Westonbirt Arboretum in Gloucestershire has one of the finest tree collections in the world. It is renowned for the autumn colors and has a picturesque Silk Wood with giant redwoods. In late spring, the arboretum hosts a flower show showcasing rare plants and flowers. Admission fee applies for access to the arboretum and flower show.
Address: Westonbirt, Tetbury GL8 8QS
Phone: 0300 067 4890
Website: forestryengland.uk/westonbirt
11. RHS Garden Wisley, Surrey
RHS Garden Wisley is the flagship garden of the Royal Horticultural Society. It features beautifully themed gardens, an extensive arboretum and Europe's largest plant collection. From April to June, the rose garden, rock garden and borders burst into bloom with flowers of vibrant colors. Admission fee applies. Advance booking is recommended especially in peak seasons.
Address: Wisley Ln, Wisley, Woking GU23 6QS
Phone: 0845 260 9000
Website: rhs.org.uk/gardens/wisley
12. Alnwick Garden, Northumberland
The Alnwick Garden in Northumberland is one of Britain's most popular visitor attractions. The gardens have dramatic and quirky landscapes with cascading water features and ornamental gardens. In spring, the cherry orchard and rose garden are filled with pink blossoms. The garden also has the world's largest Japanese Cherry Orchard collection. Admission fees apply for access to the gardens and events.
Address: Denwick Ln, Alnwick NE66 1NQ
Phone: 01665 511 350
Website: alnwickgarden.com
13. Royal Botanic Garden Edinburgh
Royal Botanic Garden Edinburgh is a historic botanical garden in the capital city of Scotland. It has over 13,000 plant species in several themed glasshouses and extensive gardens. From May to September, the rock garden and herbaceous border are blanketed in colorful blooms. Admission to the garden is free while admission fees apply for the glasshouses.
Address: 20A Inverleith Row, Edinburgh EH3 5LR
Phone: 0131 248 2909
Website: rbge.org.uk
14. Bodnant Garden, Conwy
Bodnant Garden is a world-famous garden in Conwy, North Wales. It boasts an array of themed gardens from Italianate to aquatic filled with exotic plants and flowers. The terraced gardens and Laburnum Arch are especially stunning in late spring. Bodnant Garden is open daily from February to October and admission fees apply.
Address: LL28 5RE, Tal-y-Cafn, Colwyn Bay
Phone: 01492 650460
Website: nationaltrust.org.uk/bodnant-garden
This completes the guide to the top 12 flower destinations to visit in the UK. Have a pleasant trip discovering the floral wonders in the gardens and do not forget to check the opening times to avoid disappointment! The beautiful blooms will brighten your day and enliven your senses.